Bha
Surekha Sikri, the grandmother of the Indian acting world, is no more. What the Indian acting world has lost with her death on July 16, is known to those who saw Surekha Sikri living or realizing them, not acting as different characters on the small and big screen apart from theatre. is. One can create acting patterns with the movements and gambits of his facial wrinkles and wrinkles, if you want to learn this, then you must definitely see Surekha Sikri.
Although it is very common that such a person was a school of acting in itself, but in the case of Surekha Sikri it is not a jumla but a reality. The sadhana and penance required to bring out the depth of emotions and sensations on the face in acting, it seems to be realized in his acting. It was his only thing to show the movements of the blood flowing in the arteries and veins under the skin above the skin. Be it the twitch of the heart or the confusion of the mind, he could easily be read in the finer movements that came on his eyes, lips and cheeks.
Big recognition from serial Balika Badhu
I got to know Surekha Sikri from the well-known TV serial 'Balika Vadhu' of the first decade of this century (2008). And know what, just got convinced of his acting. Wrapping a social message in itself, that serial mainly rested on two characters. One is the girl bride Anandi and the other is her grandmother, that is, grandmother-in-law. And the way both these characters handled that whole story with their acting, it still looks amazing.
Incidentally, both these characters seem to be using their faces mostly for acting rather than their overall body language. There are many scenes in that serial where Balika Vadhu and Dadi Sa have a very deep dialogue through only eyes, only through light gestures of face or just touch.
Playing the character of Dadi Sa, Surekha Sikri does not act, but is seen living that character with full vigor. Similarly, Avika Gaur as the child character of Balika Vadhu Anandi and later Pratyusha Banerjee tried very hard to walk by holding Surekha Sikri's finger. At times it seems as if Surekha Sikri is floating in the infinite sky like an eagle and both these characters are learning to fly (act) from them like a small bird.
Surekha Sikri does not originally come from Rajasthan, but that accent of Rajasthani dialect is present with full effectiveness in her dialogue delivery. The character of Dadisa in Balika Vadhu perhaps became so effective because Surekha Sikri understood deeply the pain of the female society, which has always been suppressed in the male dominated society. The customs, rotten street traditions and superstitions have increased the suffering and pain of the woman manifold.The story of Balika Vadhu was composed with the background of Rajasthan
The story of Balika Vadhu was also composed in the background of Rajasthan with a very big problem. It was only a matter of Surekha Sikri that she first plays the role of a traditional archaic and woman bound by the then social bonds, then later changing herself with time, breaking herself from those shackles, repenting on her mistakes. do too. And she lives this transformation of the character as a character with utmost credibility and authenticity.
The generation watching Balika Vadhu has become old, but the new generation, who have seen the film 'Badhaai Ho', which came about two and a half years ago, can see the modernity of the female character and the determination to break the traditions and rotten street beliefs of Surekha Sikri. As can be seen in the scene, when she is seen standing in full force by the side of her daughter-in-law who becomes a mother at a ripe age. I think that role is the next step in his transformation of Balika Vadhu.
Remembering Surekha ji, Gajraj Rao, who played the lead role in the film 'Badhaai Ho', wrote on Twitter- 'The making of any film is like a train journey where your journey is your stop. You meet many co-travellers during this time. Many of them keep their tiffin open for you from heart to heart, while many worry about their luggage and look at each one with suspicion.
'Badhaai Ho' was like one such special train journey for me, which brought a special milestone in my life. I am thankful that during this time I got the support of a person like Surekha Sikri who was the symbol of feelings and emotions in this journey . There was definitely no one younger at heart than him on the sets…'
Now it is difficult to meet a person like Surekha Sikri
'Badhaai Ho' director Amit Rabindranath Sharma says that he searched for the right character across the world for the role of Dadi in this film. But, finally his search came to an end only on the grandmother of 'Balika Vadhu' i.e. Surekha Sikri. But, here also that aspect of Surekha Sikri's personality is exposed, which is rare to find in today's artists.
Amit says- "I asked her to give a test before giving the role, several times asked her to read the role properly, but instead of raising any objection or expressing arrogance of her acting ability, Surekha ji obeyed all my words. "And then what happened was in front of the whole world… Amit himself believes that no other actor could have done the role of grandmother in Badhaai Ho with that enthusiasm except Surekha ji.
Once upon a time when the issue of NSD came out, famous color director Bansi Kaul had specially mentioned some theater workers in a conversation with me and during the same time, while mentioning Surekha Sikri, he said that his skin also acts. Two powerful actors who played character roles in the Indian acting world are remembered with great respect, one of them was Johara Sehgal and one Surekha Sikri. Both of them painted the entire theater or the entire screen with the lines of their faces in acting.
It is also a coincidence that both of them have presented Faiz Ahmed Faiz's Ghazal – 'Mujhse Pehli Si Mohabbat Mere Mehboob Na Maang' in their own style. This ghazal sung by both is available on YouTube. Don't go by what I say, but definitely look at both and feel the power of acting ability of these actors. Just keep one thing in mind, such acting demands not only to be seen with the eyes but to be felt with the soul…
(Disclaimer: These are the personal views of the author. The author himself is responsible for the correctness / accuracy of any information given in the article. News18Hindi is not responsible in any way for this)
about blogger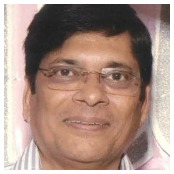 Girish Upadhyay

journalist, writer
The author is a senior journalist. Former editor of Nai Duniya.
read more