Sunil Grover was seen with Salman Khan in 'Bharat' (Photo Credits: Instagram/whosunilgrover)
Despite being associated with the film industry for 26 years, Sunil Grover has described his change in work as a new beginning and called himself a 'newcomer'.
New Delhi: Stand-up comedian and actor Sunil Grover became famous when he was a part of 'The Kapil Sharma Show'. After a quarrel with Kapil, Sunil left the show, which became a topic of discussion among the people. In an interview given to a news agency, Sunil Grover said, 'When a role goes on in TV, you keep doing it for years. You have to set a level for your role. I am trying to get used to it.
He says about his hobby of acting, 'This is a new world for me. However, I enjoy acting in both films and TV. I am grateful to people for this experience. I am enjoying this new face. Grover said that he is happy that the audience has liked him in different roles. What I did earlier was not according to planning, because I started with something else and I moved on to something else. He will be seen in Vikas Bahl's web series 'Sunflower', which will release on June 11 on Zee5. Sunil Grover is playing the lead role in this.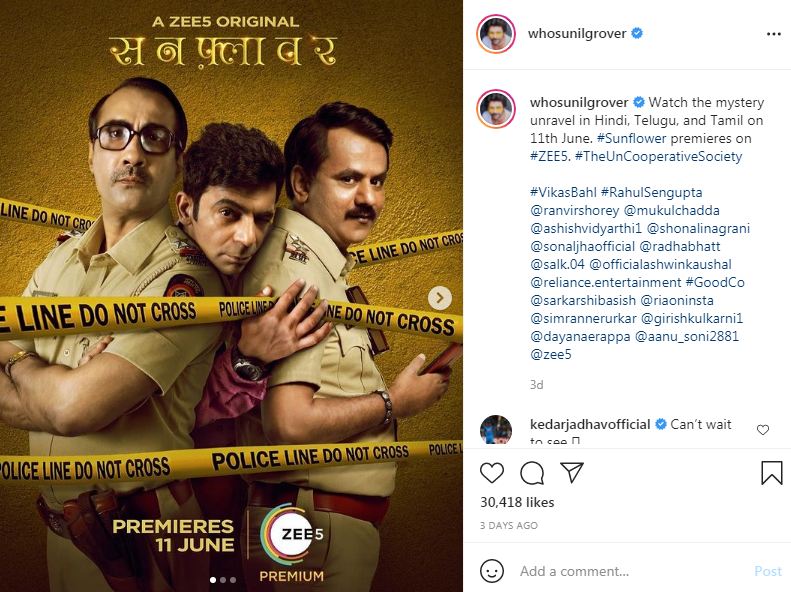 (Photo courtesy: Instagram / whosunilgrover)
Sunil says about his image, 'I have been doing comedy for many years. It is very difficult to break that kind of image. There is also the fear of not being accepted in some roles, but people have accepted me and I am happy with it. Despite being in the industry for 26 years, Sunil describes his transition to work as a fresh start and says he is a 'newcomer'. Don't do it He said, 'When Vishal offered me 'Pataakha', I was not ready or planning to do anything like this. It was the same with 'Bharat'. Director Ali Abbas Zafar and team thought of me. Then got a chance in 'Tandav'.