Sameera wrote- 'Which part of your body makes you the most uncomfortable? (Photo:reddysameera/Instagram)
Sameera Reddy posted on Instagram with a collage of pictures showing her body's imperfection. She wrote, 'I work on accepting it every day and it took me so long to adopt it.'
Mumbai. Actress Sameera Reddy talked about body positivity on her Instagram handle. In her post, Sameera talked about being kind to herself and seeing the body parts that make her insecure and embracing her. The actress was last seen in 'Varadhanayaka' on Wednesday, her Kannada debut film.
Sameera shared a collage of 4 pictures showing her flabby back, hands, acne and stretch marks, 'Which part of your body makes you the most uncomfortable? Is it stretch marks? loose skin? stomach? Acne? thin hair? white hair? cellulite? For me, it's my back flab and arms.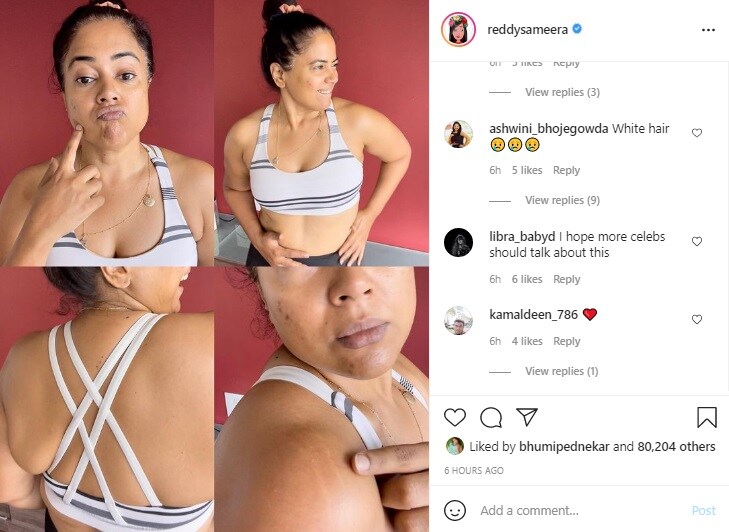 Sameera Reddy's post.
Reddy further wrote that, 'I work on its acceptance every day and it took me so long to embrace it. Your body is listening and every time you have a negative thought about how much you hate it, it only magnifies how bad you feel. The best exercise for body positivity is to look at the parts that make you feel insecure and be kind to yourself. Every day is like a mantra.' This is not the first time that Sameera has spoken about body positivity and being comfortable with her skin. Earlier, Sameera had shared a throwback video which included pictures of her then and now. In these 'then' i.e. old pictures were from photoshoots, while 'new' pictures were taken after she became a mother. People are constantly commenting on this post. In the comments, people have told different problems about their body. Somebody has told the problem with his enlarged stomach, then someone else has written something else. One person wrote in the comment- 'You are not old, you are always gold'.