Mumbai.
Bollywood actress Rhea Chakraborty, who was the girlfriend of Sushant Singh Rajput, is very active on social media these days. Riya, who was jailed in the drugs case that surfaced in the Sushant case, is out on bail these days. Last year has been full of difficulties for Riya. In such a situation, she is trying her best to keep herself positive. Recently, she has shared some inspirational notes (Rhea Chakraborty shared inspirational notes), which are becoming very viral. With this, he has also shared a throwback pic of his childhood.
Rhea Chakraborty has once again become active on Instagram. Recently, after posting on Father's Day and Sushant Singh Rajput's first death anniversary, he has shared a picture of his years old with inspirational notes on his Insta story, in which he wrote- 'And just like that.. He faced the storm, because there is always darkness before the light'. With this, Riya shared her childhood picture, in which she is trying to walk. She wrote- 'I thought mother was teaching me to walk, who knew I would learn to fly.'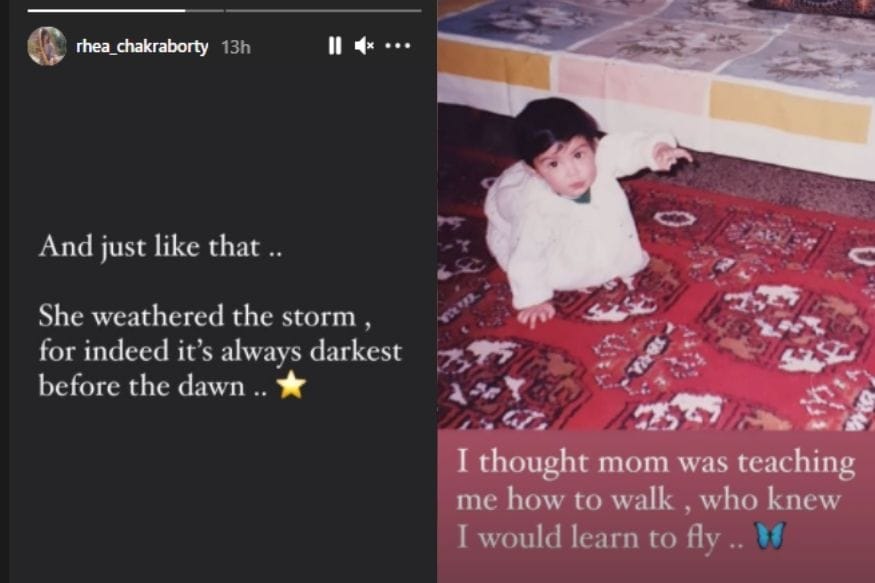 This post of Riya is now becoming quite viral. Earlier, she shared a post with an old picture with her father, describing herself as the daughter of a soldier, in which she also mentioned the difficult times and expressed regret for it.
Rhea Chakraborty is going to be seen in the film 'Chehre'. Amitabh Bachchan and Emraan Hashmi are with him in this film. The film is directed by Rumi Jaffrey. In a recent interview, he praised Riya a lot and told that her work in the film is very good. Let us tell you that Riya has not been included in the poster of the film. Only a glimpse of him is shown in the trailer too.