Mumbai:
Today is going to be very important for businessman Raj Kundra, husband of Bollywood actress Shilpa Shetty, arrested for pornography and showing them through the app, because today is his last day in police custody. His police custody is ending on July 27. The Bombay High Court will hear today the petition challenging the police custody of Raj Kundra and seeking bail. His police custody in connection with the pornography case is ending today.
Along with Kundra, the police custody of his company's IT head Ryan Thorpe is also ending today. Raj Kundra was arrested by the Crime Branch of Mumbai Police on 19 July. After which Kundra filed a petition in the Bombay High Court for bail challenging the police custody. Kundra had filed this petition calling his arrest illegal. On which hearing is to be held today.
Let us tell you, the crime branch probing the case has got many evidences so far, which can increase Kundra's problems. From the secret locker found in Raj Kundra's office to the details of his bank account, the police have searched, in which the crime branch has got many evidences regarding the porn racket. In such a situation, the police can demand to extend the custody of Kundra.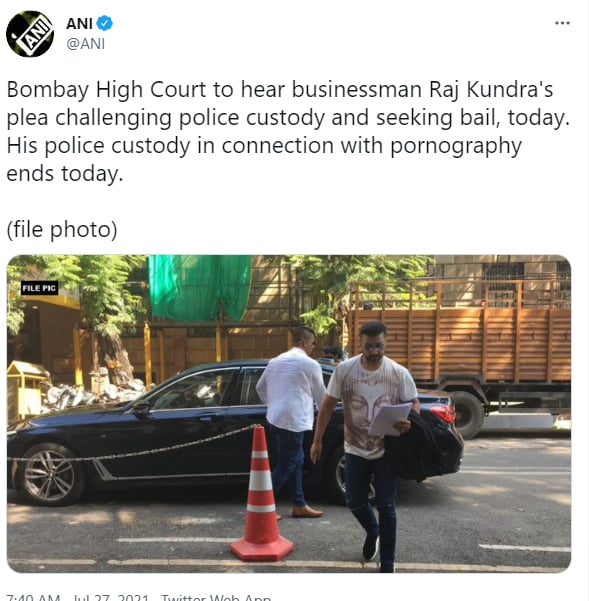 Raj Kundra's bail plea is to be heard today. (Photo Credits: Twitter: ANI)
Will Raj be freed from police custody today or he will have to spend more days behind bars. Because in the pornography case so far the police have got many evidences. The Crime Branch team has also got some videos from the secret locker of his office. At the same time, many international transactions have also been revealed from the joint account of Raj Kundra and Shilpa Shetty.
Read Hindi News online and watch Live TV News18 on Hindi website. Know news related to country and abroad and your state, Bollywood, sports world, business.