New Delhi:
Many celebrities of B-town have congratulated Priya Malik for winning the gold medal in the World Championship. However, there were some celebs who misunderstood that Priya won the gold medal in the ongoing Tokyo Olympics in Japan. Bhumi Pednekar, Milind Soman and Vatsal Sheth have congratulated Priya Malik for the victory with their social media accounts, referring to the wrong tournament.
Milind Soman tweeted, 'Thank you Priya Malik! Gold, Tokyo Olympics. Shortly after the post, netizens reprimanded Milind for his mistake. One user wrote, 'Not in the Olympics… didn't expect this from you.' Another user commented, 'Sir this is the World Wrestling Championship, not the Olympics… it is held in Hungary.' The third user writes, 'Do a little Google and find out in which sports competition they have won. It is not necessary to tweet for congratulations without information. Milind has realized his mistake and has apologized by tweeting.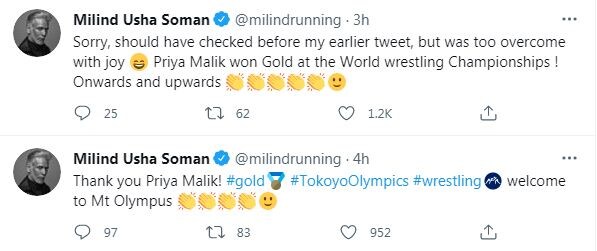 (Photo Credits: Twitter/milindrunning)
Making a similar mistake, Bhumi Pednekar shared a picture of Priya Malik on her Instagram story and wrote, 'Baby Gold Gold Gold Gold Gold… Priya Malik, Tokyo Olympics.' Bhumi later realized her mistake and deleted her post.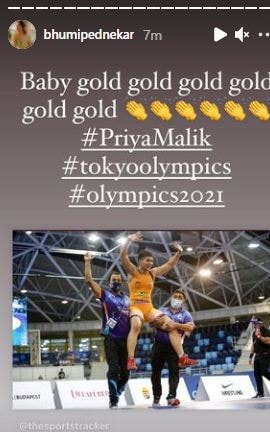 (Photo Credits: Instagram/bhumipednekar)
Vatsal Sheth also made the same mistake. However, later when Vatsal realized his mistake, he wrote, 'Sorry not Olympics… but we are still very proud of you.'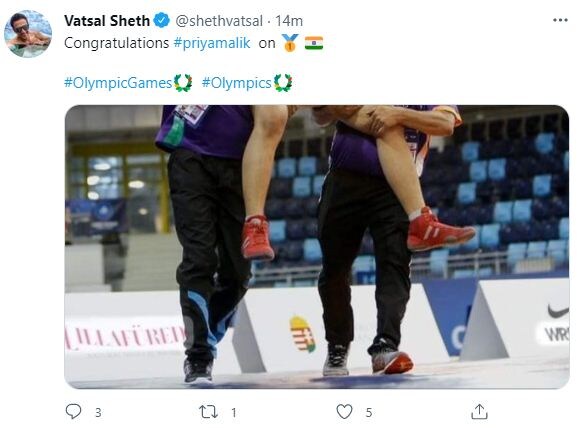 (Photo Credits: Twitter/vatsalsheth)
read this also: Good News! Sonu Sood will be seen in the remix of popular song, Farah Khan will be back together
Let us inform that Indian wrestler Priya Malik has won the gold medal in the ongoing World Cadet Wrestling Championship in Budapest, Hungary. Priya won the gold medal in the women's 73 kg weight category by defeating Belarusian wrestler Kseniya Patapovich 5-0 in the final of the championship in Hungary. A day after Priya's victory, champion weightlifter Mirabai Chanu won the silver medal in the women's 49kg category at the Tokyo Olympics. Sara Ali Khan and Kareena Kapoor were among the celebs who congratulated Priya for winning the gold medal at the World Championship.
Read Hindi News online and watch Live TV News18 on Hindi website. Know news related to country and abroad and your state, Bollywood, sports world, business.