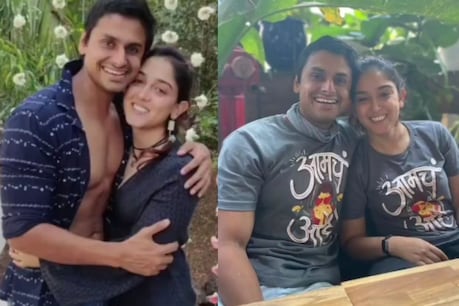 Ayera Khan made the Valentine's Day official relationship with her and Nupur Shikhare this year. Photo courtesy- @ khan.ira / Instagram
Mumbai. There is no need to look at the time and place to tell love. His love for himself has once again been openly expressed by Aamir Khan's daughter Aira Khan (Ira Khan). Active on social media, Aira Khan once again became romantic after seeing old memories with her boyfriend Nupur Shikhare. He has recently shared a video, which is becoming very viral. Aira Khan has shown Happy Moments of herself and Nupur Shikhare in her latest post. With this, he has again told Nupur about his heart.
The love story of Ira Khan and Nupur Shikhare is not hidden from anyone. Both remain active on social media and often share pictures of each other. 23-year-old Aira Khan has recently shared a video on her Instagram account. In this, he has made this video by adding pictures of Happy Moments with him and Nupur Shikhare.
In these pictures you can see how happy this couple is with each other. Ira Khan wrote in his post, 'You are my anchor. Feeling paranoid. I love you so much QT! '
After seeing this post of Aira Khan, Nupur Shikhare could not stop himself, he wrote- 'I love you too.' Many people are expressing their happiness on both of them by commenting on this post of Aira. Tiger Shroff's sister Krishna Shroff has also commented on the post by making a hort emoji. Nupur Shikhare has also shared the same post on his Instagram account.
Let me tell you that this year, Valentine's Day made official the relationship between myself and Nupur Shikhare on Valentine's Day. Aira Khan shared many photos with Nupur Shikhare on her Instagram account.