Bharti Singh Shares Photo of Her Son: Comedian Bharti Singh is fully enjoying the pleasure of becoming a mother along with her work these days. Bharti Singh and Harsh Limbachiyaa became parents on 3 April 2022. Comedian's baby boy has completed one month. Although Bharti is yet to reveal her son's face and fans are eagerly waiting to see the first glimpse of the child. Recently, Bharti has celebrated her son's one month birthday.
Bharti Singh was seen hugging her son:
On May 3, the beloved son of Bharti Singh and Harsh Limbachiyaa turned 1 month old and on this special occasion, the comedian has shared some pictures of his son from his Instagram account. In this photo of One Month Birthday Celebration, his son Gole is seen in the lap of Papa Harsh Limbachiyaa. Both father and son are doing very cute in this photo.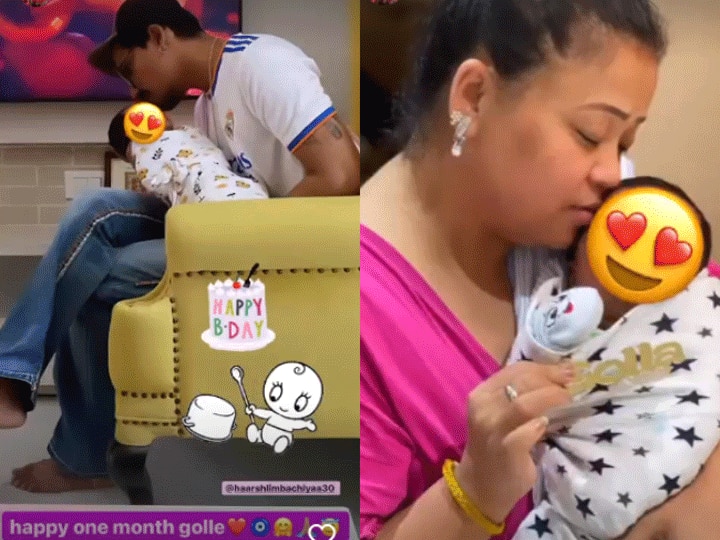 In the second photo, Bharti Singh is seen hugging her son with great love. Bharti has written with sharing these photos, "Happy one month gole." Bharti Singh has not named her son any official, just sons, they affectionately call them Gola.
Fans asked when will the son's face be shown:
People are very excited to see Bharti Singh's son. Many times on social media, fans have asked Bharti that when will she show her son's face to him. Bharti has also promised her fans that she will soon share a cute photo of her son.
read this also:
Salman Khan Net Worth: Salman Khan is the owner of a property of 3000 crores, from Mumbai to Dubai, there is a luxurious property!
Ram Charan: People climbed on the walls of the hotel to catch a glimpse of Southstar Ram Charan, showered flowers in wait