Munawar Faruqui Girlfriend : Standup comedian Munawwar Farooqui has become the winner of Kangana Ranaut's show 'Lock Up'. His fans are not happy with Munavvar becoming the winner. At the same time, after winning the show, Munawar shared such a photo on his Instagram story, he has created a stir among the fans of the comedian. In this photo, Munavvar is seen with a mystery girl and the way he is standing with the girl, it is evident that this mystery girl is Munavvar's girlfriend.
It is seen in the photo that a girl is standing with Munavvar who is taking a picture of both of them in the mirror. The comedian has lovingly held the mystery girl and a heart emoji has been shared on the photo of both. While sharing the photo, Munavwar has shared the song of Diljit Dosanjh, whose lyrics are 'Tera ni main lover'. This loving photo of Munavvar is becoming very viral and the fans are restless to know who is this mystery girl.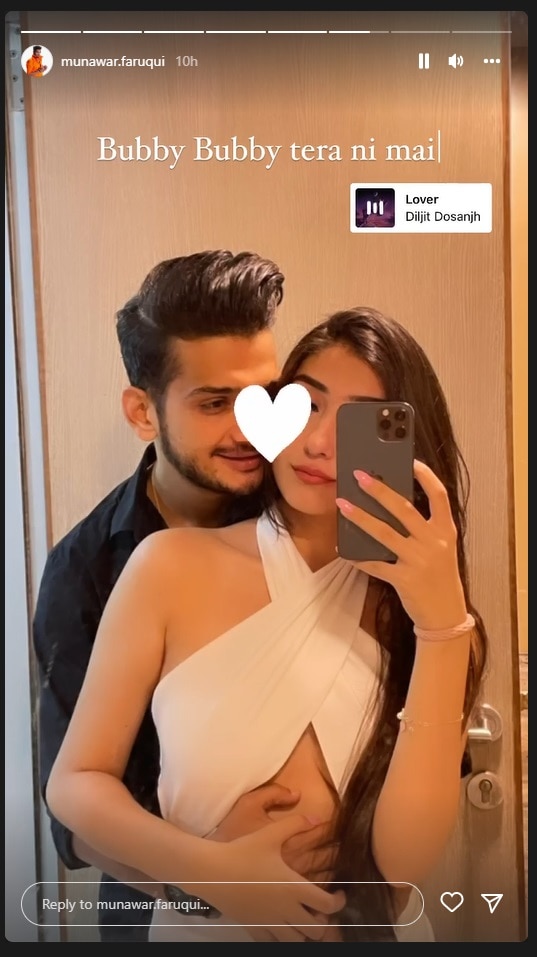 Let us tell you that a lot of closeness was being seen between Munavvar and Anjali Arora in 'Lock Up'. Even both were expressing in gestures that both of them like each other. Even the fans had created a hashtag of both the names of 'Munjali', now sharing the photo of Munawar with the mystery girl as soon as it comes out can be a blow to the comedian and Anjali's fans. With that trophy, Munawar has got prize money of 20 lakh rupees. Not only this, Munavvar has also got a lead role in Ekta Kapoor's show.


Malaika Arora: When Malaika said on wearing short clothes, I do not do any such thing that people should point fingers